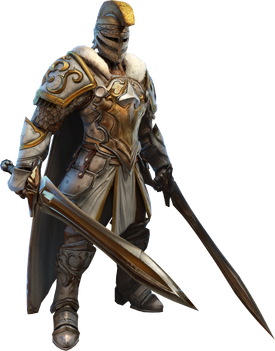 Once a simple knight, Teren was magically transformed into a godlike being. His swords deal massive damage and he moves swiftly through the battlefield!
Abilities
| | |
| --- | --- |
| | Every few attacks, the fury of his swords unleashes a powerful whirlwind that damages enemies within range |
| | Targets specific enemies and unleashes a charge of fury. The impact stuns targets for a few seconds. |
Alternate Skin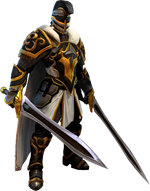 A unique Knight Teren skin featuring black and gold coloring is available to unlock at
VIP
Rank 5.
Once unlocked, a 2nd Knight Teren icon will be available at the Hero Podium and can be used to summon the Hero.





Unlock
| Level | Keep Level Required | Altar of Hero's Level Required | Chapter Unlock |
| --- | --- | --- | --- |
| 1 | 1 | 0 | 0 |
| 2 | 1 | 1 | 0 |
| 3 | 2 | 2 | 0 |
| 4 | 3 | 3 | 0 |
| 5 | 4 | 4 | 0 |
| 6 | 5 | 5 | 0 |
| 7 | 6 | 6 | 0 |
| 8 | 7 | 7 | 0 |
| 9 | 8 | 8 | 0 |
| 10 | 9 | 9 | 0 |
| 11 | 10 | 10 | 0 |
| 12 | 11 | 11 | 0 |
| 13 | 12 | 12 | 0 |
| 14 | 13 | 13 | 0 |
| 15 | 14 | 14 | 0 |
| 16 | 15 | 15 | 0 |
| 17 | 16 | 16 | 0 |
| 18 | 17 | 17 | 0 |
| 19 | 18 | 18 | 0 |
| 20 | 19 | 19 | 0 |
Stats
| Level | HP | Damage Per Second | Move Speed | Range |
| --- | --- | --- | --- | --- |
| 1 | 1,300 | 200 | Fast | Short |
| 2 | 1,404 | 220 | Fast | Short |
| 3 | 1,516 | 242 | Fast | Short |
| 4 | 1,637 | 266 | Fast | Short |
| 5 | 1,768 | 293 | Fast | Short |
| 6 | 1,909 | 322 | Fast | Short |
| 7 | 2,100 | 354 | Fast | Short |
| 8 | 2,310 | 389 | Fast | Short |
| 9 | 2,541 | 428 | Fast | Short |
| 10 | 2,795 | 471 | Fast | Short |
| 11 | 3,075 | 518 | Fast | Short |
| 12 | 3,383 | 570 | Fast | Short |
| 13 | 3,789 | 627 | Fast | Short |
| 14 | 4,244 | 690 | Fast | Short |
| 15 | 4,753 | 759 | Fast | Short |
| 16 | 5,323 | 835 | Fast | Short |
| 17 | 5,962 | 919 | Fast | Short |
| 18 | 6,677 | 1,011 | Fast | Short |
| 19 | 7,478 | 1,112 | Fast | Short |
| 20 | 8,375 | 1,223 | Fast | Short |
Charge
| Level | Damage | Stun Duration | Cooldown |
| --- | --- | --- | --- |
| 1 | 240 | 1.5 | 3 |
| 2 | 264 | 1.5 | 3 |
| 3 | 290 | 1.5 | 3 |
| 4 | 319 | 1.5 | 3 |
| 5 | 351 | 1.5 | 3 |
| 6 | 386 | 1.5 | 3 |
| 7 | 424 | 1.5 | 3 |
| 8 | 466 | 1.5 | 3 |
| 9 | 513 | 1.5 | 3 |
| 10 | 565 | 1.5 | 3 |
| 11 | 621 | 1.5 | 3 |
| 12 | 684 | 1.5 | 3 |
| 13 | 752 | 1.5 | 3 |
| 14 | 828 | 1.5 | 3 |
| 15 | 910 | 1.5 | 3 |
| 16 | 1,002 | 1.5 | 3 |
| 17 | 1,102 | 1.5 | 3 |
| 18 | 1,213 | 1.5 | 3 |
| 19 | 1,334 | 1.5 | 3 |
| 20 | 1,467 | 1.5 | 3 |
Whirlwind
| Level | Damage | Range |
| --- | --- | --- |
| 1 | 450 | Short |
| 2 | 495 | Short |
| 3 | 544 | Short |
| 4 | 598 | Short |
| 5 | 659 | Short |
| 6 | 724 | Short |
| 7 | 796 | Short |
| 8 | 875 | Short |
| 9 | 963 | Short |
| 10 | 1,059 | Short |
| 11 | 1,165 | Short |
| 12 | 1,282 | Short |
| 13 | 1,410 | Short |
| 14 | 1,552 | Short |
| 15 | 1,707 | Short |
| 16 | 1,878 | Short |
| 17 | 2,067 | Short |
| 18 | 2,274 | Short |
| 19 | 2,502 | Short |
| 20 | 2,751 | Short |
Summon
| Level | | Time | Respawn Cost |
| --- | --- | --- | --- |
| 1 | 250 | 1m 0s | 8 |
| 2 | 350 | 1m 30s | 8 |
| 3 | 500 | 4m 0s | 9 |
| 4 | 650 | 5m 0s | 9 |
| 5 | 800 | 6m 0s | 10 |
| 6 | 1,000 | 6m 0s | 10 |
| 7 | 1,600 | 7m 0s | 11 |
| 8 | 3,500 | 8m 0s | 11 |
| 9 | 6,000 | 10m 0s | 12 |
| 10 | 9,000 | 12m 0s | 12 |
| 11 | 12,000 | 20m 0s | 13 |
| 12 | 16,000 | 20m 0s | 13 |
| 13 | 20,000 | 20m 0s | 14 |
| 14 | 22,000 | 25m 0s | 14 |
| 15 | 25,000 | 25m 0s | 15 |
| 16 | 27,000 | 35m 0s | 15 |
| 17 | 30,000 | 35m 0s | 16 |
| 18 | 33,000 | 40m 0s | 16 |
| 19 | 35,000 | 45m 0s | 17 |
| 20 | 38,000 | 50m 0s | 18 |
Upgrade
| Level | | Time | Xp Gained |
| --- | --- | --- | --- |
| 1 | - | - | - |
| 2 | 1,800 | 1m 30s | 10 |
| 3 | 3,100 | 5m 0s | 17 |
| 4 | 6,000 | 15m 0s | 30 |
| 5 | 12,000 | 30m 0s | 42 |
| 6 | 18,000 | 1h 0m | 60 |
| 7 | 25,000 | 2h 0m | 85 |
| 8 | 35,000 | 4h 0m | 120 |
| 9 | 62,000 | 8h 0m | 170 |
| 10 | 93,000 | 12h 0m | 208 |
| 11 | 120,000 | 16h 0m | 240 |
| 12 | 219,000 | 1d 0h | 294 |
| 13 | 300,000 | 1d 12h | 360 |
| 14 | 550,000 | 2d 0h | 416 |
| 15 | 800,000 | 2d 12h | 465 |
| 16 | 1,200,000 | 3d 0h | 509 |
| 17 | 1,600,000 | 4d 0h | 588 |
| 18 | 2,200,000 | 5d 0h | 657 |
| 19 | 3,000,000 | 6d 0h | 720 |
| 20 | 3,500,000 | 7d 0h | 778 |