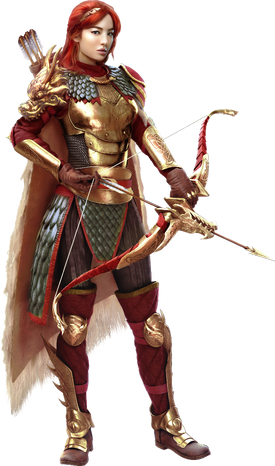 A legend in these lands, she will fight alongside you, win battles in your name, and punish your most detested enemies!
With impressive skills, the Hunter uses her mighty bow to conquer the Divided Lands. Unleash the Piercing Arrow and Arrow Crescent!
Abilities
Edit
| | |
| --- | --- |
| | Every few attacks, she will shoot a volley of arrows in a forward arc. |
| | Unleashes a piercing fire arrow towards a targeted enemy. The arrow will burn and damage anything in its path. |
Alternate Skin
Edit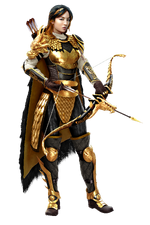 A unique Dragon Hunter skin featuring black and gold coloring is available to unlock at
VIP
Rank 6.
Once unlocked, a 2nd Dragon Hunter icon will be available at the Hero Podium and can be used to summon the Hero.





| Level | Keep Level Required | Altar of Hero's Level Required |
| --- | --- | --- |
| 1 | 5 | 0 |
| 2 | 5 | 2 |
| 3 | 5 | 3 |
| 4 | 5 | 4 |
| 5 | 5 | 5 |
| 6 | 6 | 6 |
| 7 | 7 | 7 |
| 8 | 8 | 8 |
| 9 | 9 | 9 |
| 10 | 10 | 10 |
| 11 | 11 | 11 |
| 12 | 12 | 12 |
| 13 | 13 | 13 |
| 14 | 14 | 14 |
| 15 | 15 | 15 |
| 16 | 16 | 16 |
| 17 | 17 | 17 |
| 18 | 18 | 18 |
| 19 | 19 | 19 |
| 20 | 20 | 20 |
| Level | HP | Damage Per Second | Move Speed | Range | Burn Duration |
| --- | --- | --- | --- | --- | --- |
| 1 | 1,100 | 180 | Moderate | Long | 10 seconds |
| 2 | 1,188 | 198 | Moderate | Long | 10 seconds |
| 3 | 1,283 | 218 | Moderate | Long | 10 seconds |
| 4 | 1,386 | 240 | Moderate | Long | 10 seconds |
| 5 | 1,497 | 264 | Moderate | Long | 10 seconds |
| 6 | 1,617 | 290 | Moderate | Long | 10 seconds |
| 7 | 1,746 | 319 | Moderate | Long | 10 seconds |
| 8 | 1,886 | 351 | Moderate | Long | 10 seconds |
| 9 | 2,037 | 386 | Moderate | Long | 10 seconds |
| 10 | 2,200 | 425 | Moderate | Long | 10 seconds |
| 11 | 2,376 | 468 | Moderate | Long | 10 seconds |
| 12 | 2,566 | 515 | Moderate | Long | 10 seconds |
| 13 | 2,797 | 567 | Moderate | Long | 10 seconds |
| 14 | 3,049 | 624 | Moderate | Long | 10 seconds |
| 15 | 3,323 | 686 | Moderate | Long | 10 seconds |
| 16 | 3,622 | 755 | Moderate | Long | 10 seconds |
| 17 | 3,948 | 831 | Moderate | Long | 10 seconds |
| 18 | 4,303 | 914 | Moderate | Long | 10 seconds |
| 19 | 4,690 | 1,005 | Moderate | Long | 10 seconds |
| 20 | 5,112 | 1,106 | Moderate | Long | 10 seconds |
Piercing Arrow
Edit
| Level | Damage | Explosive Damage | Burn Damage | Cooldown |
| --- | --- | --- | --- | --- |
| 1 | 144 | 252 | 80 | 3 |
| 2 | 158 | 277 | 88 | 3 |
| 3 | 174 | 305 | 97 | 3 |
| 4 | 192 | 336 | 107 | 3 |
| 5 | 211 | 369 | 118 | 3 |
| 6 | 232 | 406 | 130 | 3 |
| 7 | 255 | 446 | 143 | 3 |
| 8 | 280 | 490 | 157 | 3 |
| 9 | 308 | 539 | 173 | 3 |
| 10 | 340 | 595 | 190 | 3 |
| 11 | 374 | 655 | 209 | 3 |
| 12 | 412 | 721 | 230 | 3 |
| 13 | 453 | 793 | 253 | 3 |
| 14 | 499 | 873 | 278 | 3 |
| 15 | 548 | 959 | 306 | 3 |
| 16 | 604 | 1,057 | 337 | 3 |
| 17 | 664 | 1,162 | 371 | 3 |
| 18 | 731 | 1,279 | 408 | 3 |
| 19 | 804 | 1,407 | 449 | 3 |
| 20 | 884 | 1,547 | 494 | 3 |
Arrow Crescent
Edit
| Level | Damage | Range |
| --- | --- | --- |
| 1 | 270 | Long |
| 2 | 297 | Long |
| 3 | 327 | Long |
| 4 | 360 | Long |
| 5 | 396 | Long |
| 6 | 435 | Long |
| 7 | 478 | Long |
| 8 | 526 | Long |
| 9 | 579 | Long |
| 10 | 637 | Long |
| 11 | 702 | Long |
| 12 | 772 | Long |
| 13 | 850 | Long |
| 14 | 936 | Long |
| 15 | 1,029 | Long |
| 16 | 1,132 | Long |
| 17 | 1,246 | Long |
| 18 | 1,371 | Long |
| 19 | 1,507 | Long |
| 20 | 1,659 | Long |
| Level | Magic Dust | Time | Respawn Cost |
| --- | --- | --- | --- |
| 1 | 6 | 1m 0s | 8 |
| 2 | 6 | 1m 30s | 8 |
| 3 | 7 | 4m 0s | 9 |
| 4 | 7 | 5m 0s | 9 |
| 5 | 8 | 6m 0s | 10 |
| 6 | 8 | 6m 0s | 10 |
| 7 | 9 | 7m 0s | 11 |
| 8 | 9 | 8m 0s | 11 |
| 9 | 10 | 10m 0s | 12 |
| 10 | 10 | 12m 0s | 12 |
| 11 | 12 | 20m 0s | 13 |
| 12 | 12 | 20m 0s | 13 |
| 13 | 13 | 20m 0s | 14 |
| 14 | 13 | 25m 0s | 14 |
| 15 | 15 | 25m 0s | 15 |
| 16 | 15 | 35m 0s | 15 |
| 17 | 18 | 35m 0s | 16 |
| 18 | 18 | 40m 0s | 16 |
| 19 | 21 | 45m 0s | 17 |
| 20 | 21 | 50m 0s | 18 |
| Level | Gold | Time | Xp Gained |
| --- | --- | --- | --- |
| 1 | - | - | - |
| 2 | 1,800 | 1m 30s | 10 |
| 3 | 3,100 | 5m 0s | 17 |
| 4 | 6,000 | 15m 0s | 30 |
| 5 | 12,000 | 30m 0s | 42 |
| 6 | 18,000 | 1h 0m | 60 |
| 7 | 25,000 | 2h 0m | 85 |
| 8 | 35,000 | 4h 0m | 120 |
| 9 | 62,000 | 8h 0m | 170 |
| 10 | 93,000 | 12h 0m | 208 |
| 11 | 120,000 | 16h 0m | 240 |
| 12 | 219,000 | 1d 0h | 294 |
| 13 | 330,000 | 1d 12h | 360 |
| 14 | 550,000 | 2d 0h | 416 |
| 15 | 800,000 | 2d 12h | 465 |
| 16 | 1,200,000 | 3d 0h | 509 |
| 17 | 1,600,000 | 4d 0h | 588 |
| 18 | 2,200,000 | 5d 0h | 657 |
| 19 | 3,000,000 | 6d 0h | 720 |
| 20 | 3,500,000 | 7d 0h | 778 |